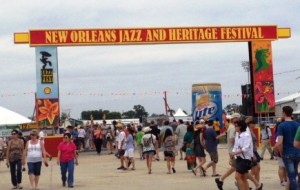 The first day of Jazz Fest 2013 started sunny and relatively cool, for New Orleans, with an invigorating breeze. After finding our favorite parking spot in a nice man's yard on Gayoso, Bruce and I made our way to our first stop at Liuzza's by the Track, for Bloody Marys and some nola.com paraphernalia, especially the Jazz Fest pocket guide. Two Bloody Marys later, and it was time to enter the fairgrounds.
Every time I enter the gates, I get that same excited feeling – the music, the food, the people! We head to the Lagniappe Stage first, and hear a little bit of a Zydeco band, Leroy Thomas and the Zydeco Roadrunners. They were fun, and had folks up and dancing. The Lagniappe Stage is always one of my favorite spots. You can order oysters on the half shell from the racetrack grill, cool off in the shade of the courtyard or the air-conditioned interior, and find real restrooms!
Next, we head to the Gentilly stage, where Anders Osborne is playing, along with guest Luther Dickinson of the North Mississippi Allstars. They played a smoking set, even throwing in a Grateful Dead cover, Franklin's Tower. Definitely a good way to continue our musical journey for the day!
After that, it was time for food. I always make my first stop for a combo plate of crawfish sacks, oyster patties and crawfish beignets. They were delicious, as always, and sharing them left us room for some crawfish bread. You can't have too much crawfish! The bread was freshly baked, warm and cheesy, with just the right amount of crawfish. Perfect!
Then we were off to the Blues Tent, where Sonny Landreth was playing with his band. Sonny always puts on a great show, showcasing his signature slide technique. Having seen Sonny numerous times, I decided to leave Bruce there, while I returned to the Gentilly stage to catch Gary Clark, Jr., who I have never seen. I've heard great things about his guitar playing ability, and they were all true! He reminded me a little of Stevie Ray Vaughan, and a little of Jimi Hendrix. Of course, he played Third Stone from the Sun, so that may explain the Jimi resemblance!
When he was done, I ventured back to find my husband at the Blues Tent. He had visited the Fais Do Do Stage and caught some of Corey Ledet and his Zydeco Band. I think he really just went for the maque choux vendor near the stage! Bruce decided to stay at the Blues Tent to hear the Campbell Brothers, while I headed to the Jazz Tent for the Mashup featuring Terence Higgins, Ike Stubblefield, Grant Green, Jr., and special guest Ron Holloway. These are big names in Jazz, and they were great! It was a nice crowd in the tent, but not too packed, so I was able to find a good aisle seat about 7 rows back. I was definitely suffering from a lack of traditional jazz, and they helped alleviate my suffering!
When they were done, I met Bruce back at the Blues Tent. We decided to leave the fairgrounds then, so we'd have time to drop our chairs and bags at the car before our 7:15 dinner reservations at Café Degas, which is on Esplanade, just down the street from the fairgrounds entrance. On our way to the car, a woman handed us a flyer for the band The California Honeydrops, and said they were playing in a yard just down the street. I've heard these guys on the SiriusXM blues channel, and really like them. Their music sounds like they're from New Orleans. We proceeded to go listen to them play, and they were so infectious! They had a guitar, probably a bass guitar, a saxophone, drums and keys. Happy music, I call it. There were folks dancing in the street and on the sidewalk. It was a very cool scene, prompting me to confess my love for New Orleans for about the hundredth time that day! But, alas, we couldn't stay for the whole thing – dinner was calling.
We moved the car to a closer spot, and headed to Café Degas, named for the artist, Edgar Degas, who apparently lived in New Orleans for a while. I've passed this restaurant over the years, and have always wanted to go there. It's a very interesting, inviting and small place. They have a pecan tree growing through the roof! There are a lot of plants and vegetation, inside and out, and it is very open-air. They have seating next to the sidewalk in a patio area, with ceiling fans turning above. It's very romantic and cozy! We sat in the patio area, and had a fabulous meal. It's a great place for people-watching too.
After dinner, we were too tired to continue, so that concluded our first day of Jazz Fest. It was a total success! One down, six to go.